Forest Service offers more details for Frozen Moose project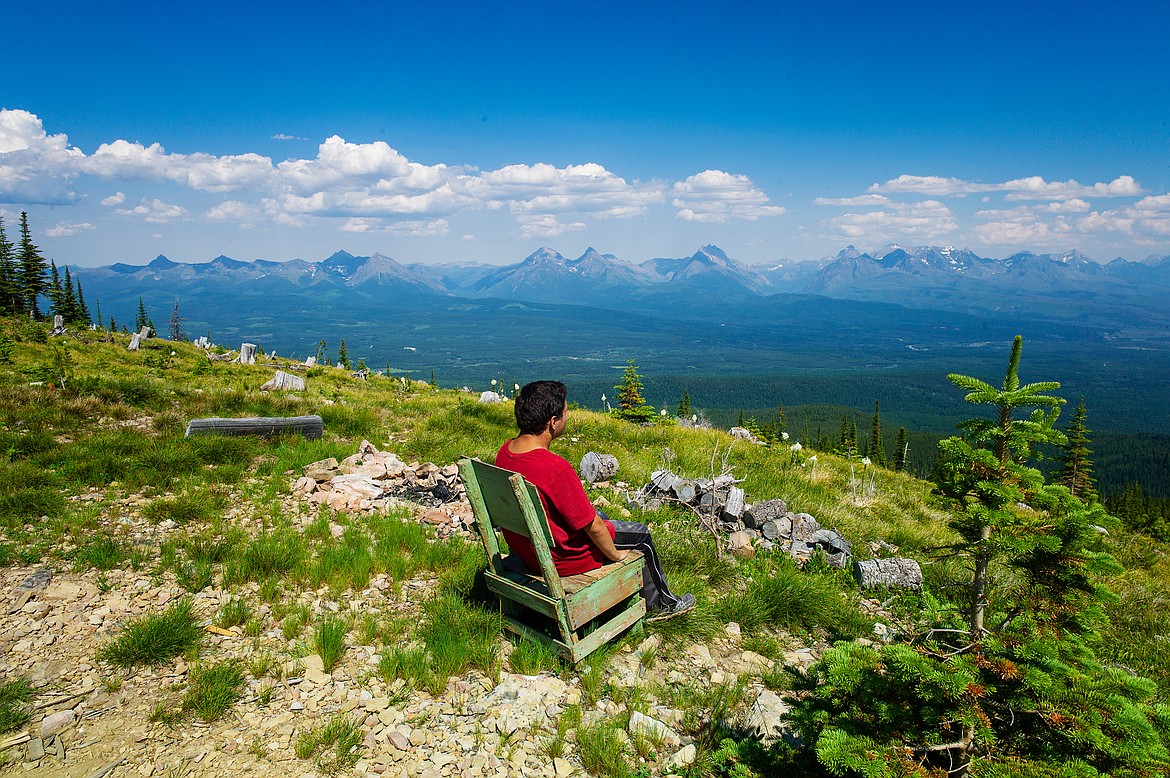 The Frozen Moose project would include a wide swath of the North Fork. Here, a hiker enjoys the view from Thoma Lookout. (Hungry Horse News FILE)
by
Daniel McKay
Whitefish Pilot
|
July 29, 2020 4:57 AM
The Flathead National Forest is set to begin taking comments on the Frozen Moose Project, a vegetation management project affecting over 8,000 acres around the North Fork.
The Forest Service last week held a virtual meeting to help inform interested landowners and other residents so they can craft better comments during the actual public comment period. The virtual meeting was led by Sara Canepa, Project Team Leader, and Rob Davies, Hungry Horse-Glacier View District Ranger.
The project addresses fuel loading in the wildand-urban interface, diversifies plant and tree communities, provides a mix of forest products for the regional economies and also improves aquatic ecosystems, according to the Forest Service.
The environmental assessment is available at fs.usda.gov and the Forest Service is taking comments until Aug. 15. The primary alternative to the project is no action.
The timber harvest aspect of the project involves commercial harvesting on 3,377 acres and noncommercial vegetation treatments, which includes thinning and burning, on 4,818 acres.
The fuel reduction aspects of the project also look to make the area more resilient to fires and provide better access for firefighters when future wildfires do occur.
Canepa said it's not about getting rid of fires in the area completely, but changing how they move and grow.
"There are portions of the project area where large fires have not occurred within the past 100 years. So the Frozen Moose project is looking to reduce fuels both in these areas that have not burned and in areas ... where we are getting dense regeneration that is creating fuel concerns," she said. "We can't eliminate fire, but we can seek to change fire behavior when it moves into these areas, and that's the goal of this project."
Davies also said the restoration work will directly benefit aquatic life in the area.
"We have four local bull trout populations in the project area, located in Frozen Lake, Trail Creek, Whale Creek and Red Meadow Creek," he said. "Within these watersheds, we are proposing to replace and in some cases remove culverts to reduce the possibility of sedimentation that could occur in the event of a culvert failure."
During the meeting's question period, Bruce McNeal asked why certain vegetative treatments are needed in the wild and scenic river corridors.
"I think you've got a great plan here, I think you've done a very good job of presenting it. Thinning out the western areas, I have no objection to. As far as the wild and scenic river corridor, I'm wondering why we would need to take about 240 acres for commercial seed treatment and pre-commercial thinning, is that absolutely necessary?" McNeal asked.
Canepa explained the trade-off benefits that come with fuel reductions in these areas that are generally adjacent to private property.
"We looked at those areas and the potential for impacts to the wild and scenic river corridor, specifically the outstanding and remarkable values that are identified for the North Fork section, and believed we can retain those values with the treatment. So this is an example of a trade-off of recognizing there may be temporary effects within the corridor, but the analysis shows there will not be any long-term detriment to the values," she said.
Suzanne Hildner also asked about the logging techniques that would be used in the project, and whether they would be low impact.
Paul Donnellon, Forester, said all units are focused on minimizing soil impacts as well as impacts to habitats for wildlife in the area.
Those wishing to submit comments can send them to Sarah Canepa at Glacier View Ranger District, 10 Hungry Horse Drive, Hungry Horse, MT 59919, or email comments to sara.canepa@usda.gov.
---