Arson suspected in North Fork fires that destroyed historic cabin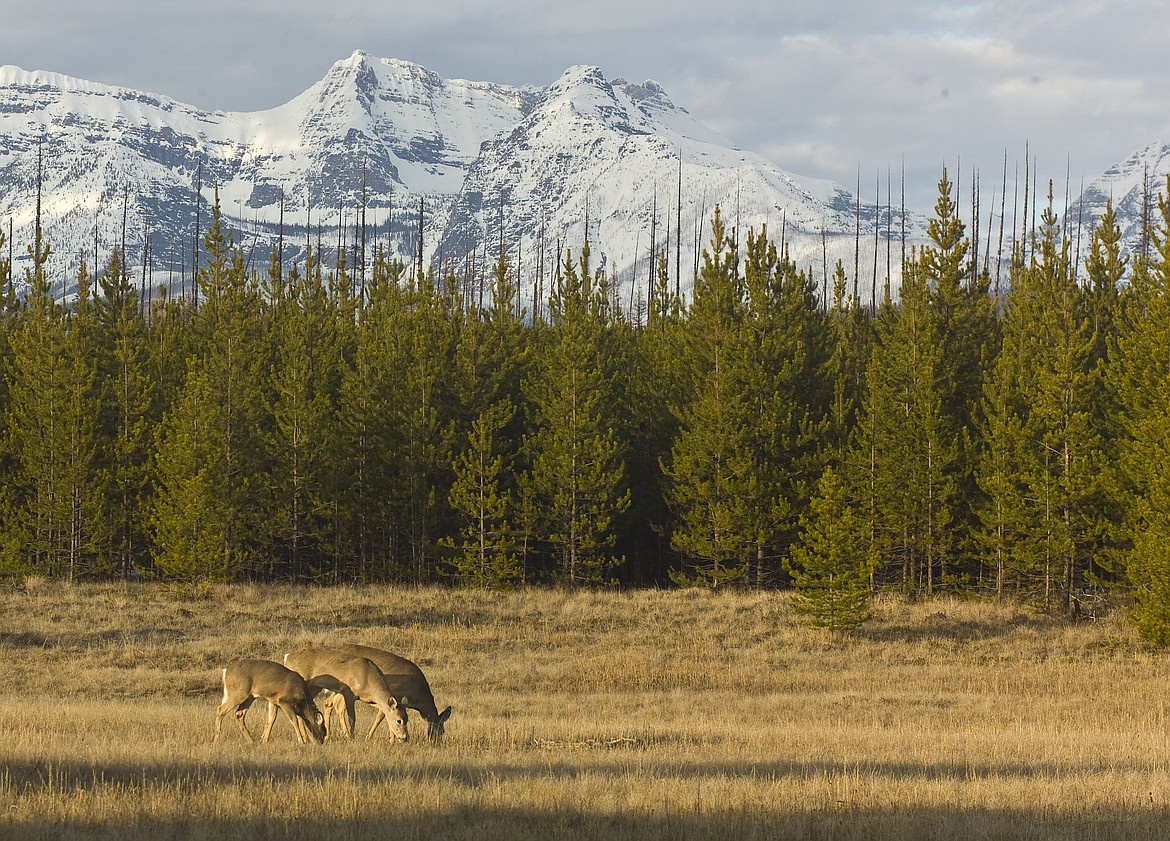 Deer graze in Glacier's North Fork in this file photo. A cabin burned down and several other fires were put out Thursday in the area in a string of suspicious fires.
by
Hungry Horse News
|
July 29, 2020 5:01 AM
An historic North Fork cabin has been lost in a fire that Glacier National Park officials suspect was arson.
The 1928 Ford Cabin burned down either July 22 or early morning July 23. The FBI, the Park Service Investigative branch and other agencies are investigating the fires.
The Park said there were seven fire starts in the North Fork area. All fires were contained.
Park officials first received a report of multiple wildland fires early Thursday morning which led to a multi-agency response from local county, state, and federal agencies consisting of wildland fire crews, hotshot crews, engine crews, and law enforcement.
There were also suspicious fires at Glacier Gateway School and at the Summit Mountain Lodge at Marias Pass. Fire investigators are working together to see if those fires may be related.
Glacier officials had closed the Inside North Fork Road to entry north of Polebridge, but it has since reopened.
If members of the public witnessed any suspicious activity on the night of July 22 or early morning of July 23, they are encouraged to call the Glacier NP tip line at 406-888-7077 and leave a message.
The North Fork Landowners Association has offered a reward of up to $10,000 for information leading to the arrest of anyone responsible for the fires.
The Ford Patrol Cabin was one of four Park Service patrol cabins built in 1928. The cabin cost $350 and while the contractor wasn't named in historic documents, all four cabins that were built were identical floor plans. The door was solid wood and "bear proofed," according to the National Register of Historic places.
So were the original windows.
"The windows are iron bars woven with barbed wire over six-light, wood frame casements," the register notes. That was also to keep bears out of the cabin.
The patrol cabins were spaced 8 to 12 miles apart from a permanent ranger station.
In the North Fork, for example, a ranger could patrol from Polebridge by snowshoes or skis to Ford, and then to Kintla Lake to a cabin there and then to Upper Kintla Lake to a cabin there.
"The Ford Creek patrol cabin is significant because it illustrates an important aspect in the development and administration of Glacier National Park," the register documents note.
---