Bullock tours SmartLam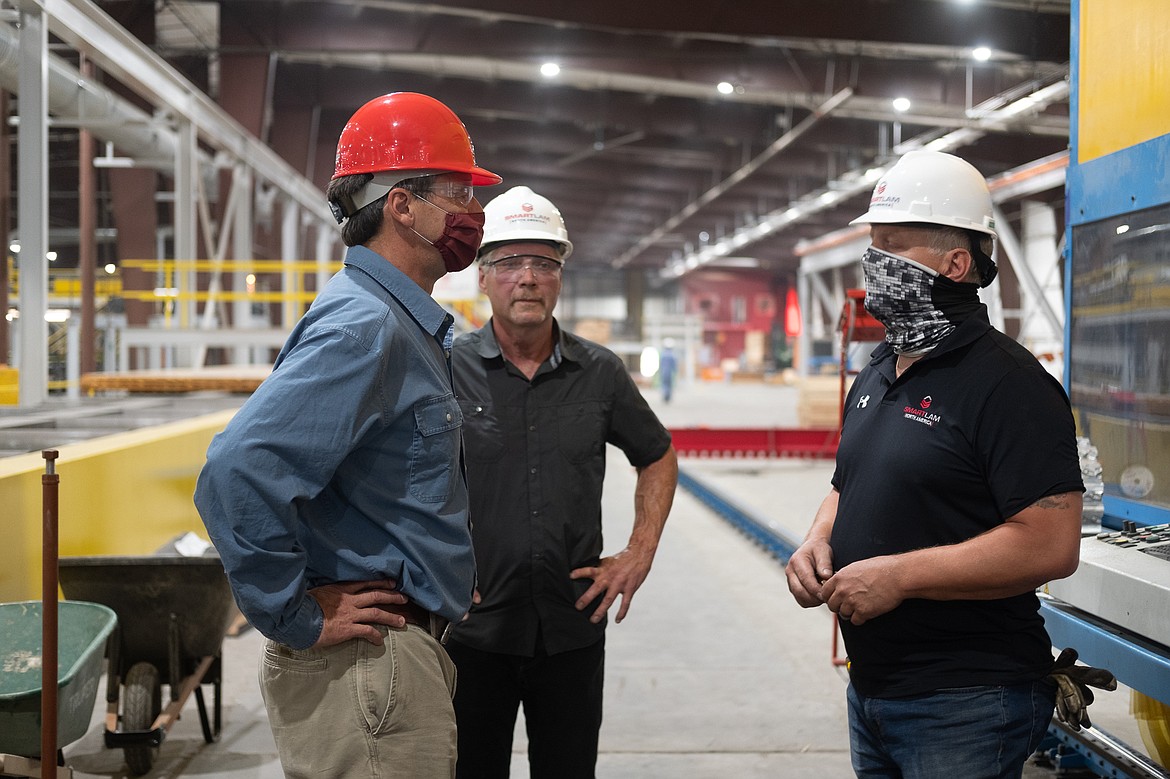 Casey Malmquist, CEO and founder of SmartLam North America, takes Montana Governor Steve Bullock around the its new engineered wood manufacturing facility in Columbia Falls. (Daniel McKay/Whitefish Pilot)
by
Daniel McKay
Whitefish Pilot
|
July 22, 2020 7:23 AM
Montana Gov. Steve Bullock last Tuesday got a look at Columbia Falls' promising new product — cross laminated timber.
The governor was treated to a tour of the 145,000 square-foot SmartLam facilities, formerly occupied by Plum Creek Timber Co. and later Weyerhaeuser, by CEO and founder Casey Malmquist.
SmartLam produces cross-laminated timber, a rigid and durable building material made by stacking and bonding several layers of kiln-dried lumber boards. The cross-lamination provides more dimensional stability, strength and rigidity compared to other building materials, according to SmartLam.
The benefits of cross-laminated timber, as Malmquist explained, are varied, ranging from being a lighter material to being a sustainable and cost-effective alternative to more traditional materials like steel and concrete.
"We are a very cost-effective alternative. It depends on the type of project and what area, because concrete costs different in different parts of the country and workforces differ, but generally we are within 5% of what steel and concrete can do," Malmquist said. "We have better thermal qualities, and it's lighter so you can build more stories or you have a better foundation system, so there's a lot of offshoot costs that are getting calculated in there."
On the sustainability front, Malmquist said SmartLam is "reversing" the traditional formula of constructing buildings with materials that emit significant amounts of carbon along the way.
"To me, the most important part is the carbon story. If concrete were a country, it would be the third largest CO2 emitter on the planet. By replacing concrete and using wood, we're actually storing carbon," he said.
Bullock noted he's been interested in the project since its beginnings eight years ago, and he thinks SmartLam has implications statewide.
"This is sort of the virtual opening, if you will, of a project that's been a long time in the works. It's not only important to Columbia Falls, but it's also important to the entire state of Montana. We really are leading in manufacturing when it comes to cross-laminated timber," he said. "This has all happened in the last decade. In eight years, the idea that you're going to be building big buildings with wood — it's pretty darn cool."
Not everything has been easy, Malmquist noted.
In particular, he said the construction industry is one that doesn't quickly adapt to change.
"I've spent my whole life in the construction and development world and it's just a stubborn industry, it's kind of 'If it ain't broke, don't fix it.' Generally they are slow to adopt, but for people in the industry this has been one of the quickest adoptions of a new material," he said.
Part of that is the primary application for the product.
Malmquist said while cross-laminated timber works well for residential projects, as well as the large-scale campuses and communities requested by fast growing technology companies, the main application is in big buildings.
"It's a little bit of a radical thought, because our end product is skyscrapers, 20 to 30-story buildings, and to be made completely out of wood is a little counterintuitive," he said. "But we have the data, the science to support that. It not only can do that, but it is better than the existing construction methodologies."
---