Kats thump Bulldogs to end regular season
by
CHRIS PETERSON
Editor
|
February 26, 2020 8:32 AM
Now the real work begins.
The Columbia Falls girls basketball team secured second place in the Northwest A conference last week, dropping Ronan 59-41 Tuesday, while hammering Whitefish 53-12 to wrap up the regular season on the road Thursday.
Hannah Schweikert had 25 in the win over Ronan to lead the Wildkats; Josie Windauer had 18 and Maddie Robison had 8.
Schweikert also had five steals and Windauer went 8-for-10 shooting with seven rebounds, six steals and three assists. The Kats also forced 37 turnovers.
Against Whitefish, Windauer led the Kats with 18, followed by LaKia Hill with 11, Robison with 10 and GraceAnne Sevisind chipped in six. Sevesind had a great game, with six rebounds, four assists and six steals.
"She put together her best game of the year," coach Cary Finberg said.
Lauren Falkner came off the bench to score four and Madysen Hoerner had a bucket as well.
Robison had eight steals against Ronan.
The Kats played stellar defense against the Bulldogs, holding them to just four points in the second half. They end the regular season at 16-2 overall and 8-2 in league play. Their only two losses were to Browning, one by one point, the other by three. The Kats had leads in both of those games.
"I like where we're at defensively at the end of the year," Finberg said.
The girls head back down to Ronan this week for the divisional tournament at Ronan High School.
They open the tourney Thursday against Corvallis. Gametime is 12:30 p.m. Win that contest and they'll likely face Dillon, the top-ranked team in the Southwest. Dillon is 13-5 overall and 9-1 in league play.
"They're a very athletic team," Finberg said, noting they have a lot of players that also competed on their state A championship track team.
If they can get past Dillon, the championship Saturday night sets up for another showdown with conference rival Browning, who is on the other side of the bracket.
The top four in the divisional tournament get a state tourney berth.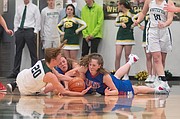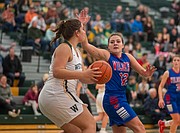 ---