Bulldogs handle Wildcats in play-in game on the road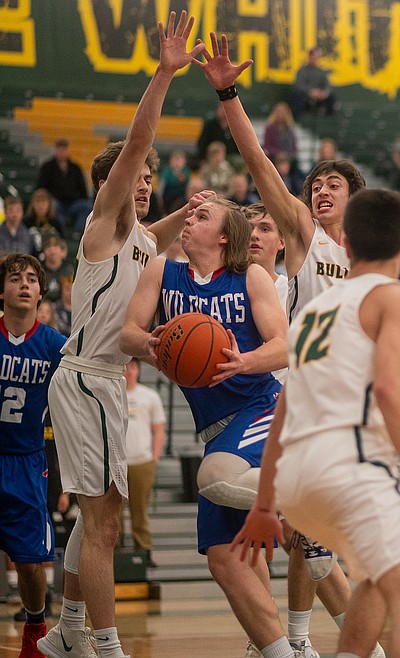 Cade Morgan drives to the basket against Whitefish Monday night.
by
CHRIS PETERSON
Editor
|
February 26, 2020 8:33 AM
The boys suffered a disappointing ending to their basketball season Monday night, losing to Whitefish 57-31 on the road. After a competitive first quarter, the Wildcats had a tough time finding the bottom of the net, scoring just two points in the second quarter.
The Cats were down 24-10 at the half, and the Bulldogs made it worse in the third, outscoring Columbia Falls 22-9.
Junior Allec Knapton led the team with 14. William Dyon had six. The Cats were 1-for-19 from beyond the three-point line.
The Cats also lost to the Bulldogs last Thursday, 59-50, in a game where the Bulldogs led throughout most of the contest.
The Cats rallied to cut the deficit late in the fourth to 6 points, but that's as close as they would get.
The boys beat Ronan at home last Tuesday, 57-55, in a game that came down to the wire. The Wildcats led by as many as seven with two minutes left — in fact they led almost the whole game — but the Chiefs tied it up with about 16 seconds left in the contest at 55 apiece.
The Chiefs fouled Allec Knapton with 3.3 seconds left in the contest and he stepped to the line and drained both of his free throws. Ronan's trey attempt was off as time expired, giving the Wildcats the victory.
Knapton had 14 points and 15 rebounds in the win. Dillon Shipp had 14 and Jack Price had 12 in the victory.
The Cats finish the season at 4-17 overall.
The future looks brighter — the junior varsity team had a good season and there's some upcoming freshmen that show promise as well.
---