Wildkats beat Ronan, but are edged by Browning
by
Chris Peterson
Editor
|
February 19, 2020 11:15 AM
The Columbia Falls girls basketball team suffered another tough loss against conference rival Browning on the road Saturday night, 57-54, but bounced back Tuesday on the road against Ronan, 59-41.
The Browning game was close throughout and never lacked for excitement and energy, coming down to the last minute.
Browning took the lead 54-52 with a little over a minute left. Kat Hannah Schweikert was fouled on the next possession and hit both free throws to knot the game up at 54 apiece.
But on the next possession, Browning's Dulci Skunkcap hit a baseline jumper to take the lead. The Kats got the ball back and Maddie Robison's jumper was off the mark. She snared the rebound, kicked it out to LaKia Hill. Hill passed it to Josie Windauer who then passed it back inside to Schweikert, but her jumper from about 15 feet out was just off the mark and Browning snared the rebound.
The Lady Indians then spread the floor and the Kats were forced to foul. Browning would hit the front end of the one-and-one to make it 57-54. The Kats got the ball back with 4.5 seconds left, but a desperation shot by Hill from near half court as time expired was off the mark.
The win assured Browning the conference championship, as they beat the Kats at earlier this season, in a nail-biter, 59-58. Browning is the only team to beat Columbia Falls this year.
Against Ronan, Schweikert had 25 in the win to lead the Wildkats; Josie Windauer had 18 and Maddie Robison had 8.
The girls wrap up the regular season against Whitefish on the road Thursday. Game time is 6 p.m.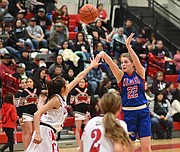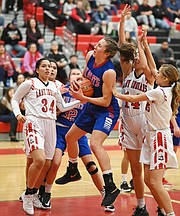 ---