Helena firm awarded Many Glacier Road contract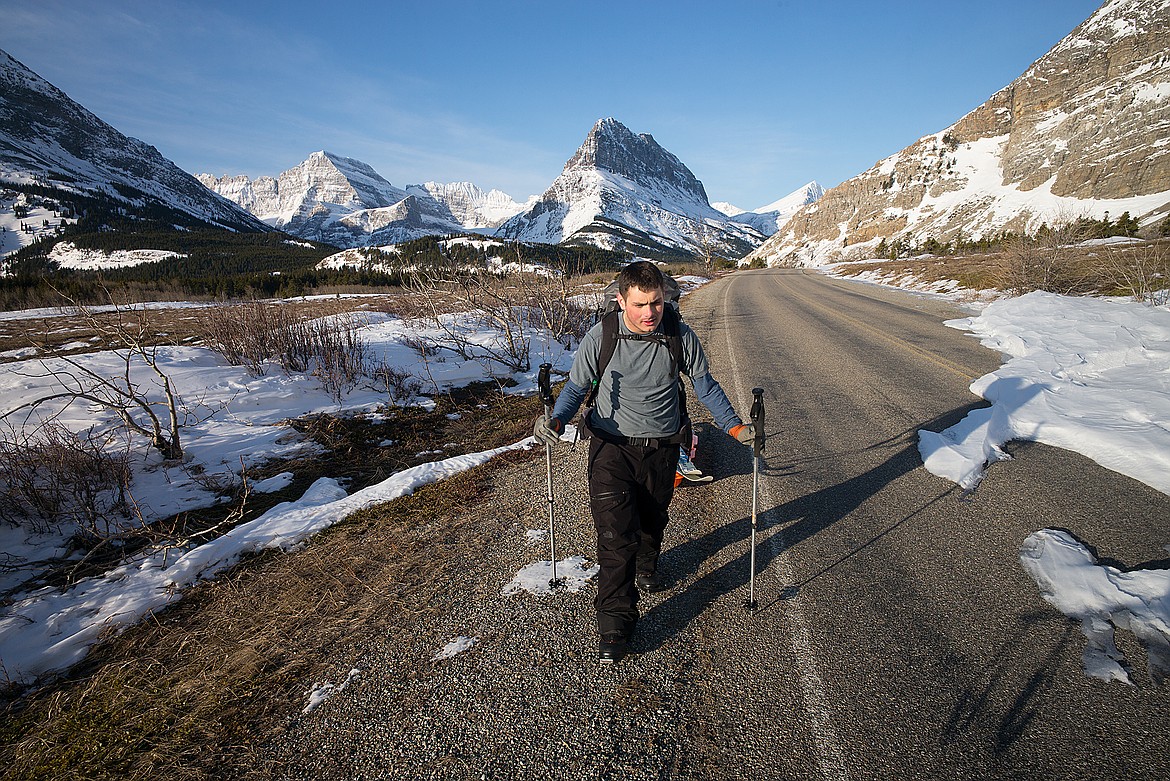 A hiker walks down the Many Glacier Road in this file photo.
by
CHRIS PETERSON
Editor
|
February 19, 2020 12:18 PM
Missouri River Contractors, LLC of Helena was recently awarded the contract to rebuild the Many Glacier Road in Glacier National Park. The contract is for just over $18.2 million, said spokeswoman Gina Kerzman.
According to federal Highway Administration documents posted online, Missouri River edged HK Construction for the contract. HK most recently rebuilt the Going-to-the-Sun Road.
The project will rehabilitate approximately 12 miles of the Many Glacier Road from the Many Glacier Hotel parking area inside Glacier National Park to the intersection with Highway 89 in Babb on the Blackfeet Indian Reservation.
The work is slated to begin April 1 and is expected to take two years.
From April 1 through May 17 and Sept. 21 through Dec. 16 the road will be closed to visitor traffic at the park boundary.
When the road opens in May, visitors should expect travel delays up to 40 minutes each way from Babb to the Many Glacier Hotel.
Delays at night could be much longer. Visitors traveling through construction zones Monday through Friday between 10 p.m. and 5 a.m. may experience delays of up to three hours due to night construction.
The road will also be largely gravel while construction is taking place.
The work along the section from Babb to the park boundary will entail slump repairs, drainage repairs, road surface repairs, and culvert replacement. The section from the entrance station to the hotel will entail road repairs, drainage repairs, culvert replacements, and bridge repairs. The upper parking lot of the Many Glacier Hotel will be completely reconstructed. Once all of the major repairs are completed the road surface will be milled and an overlay of asphalt placed for the driving surface.
The section between the park boundary and the entrance station, the worst portion of this road due to severe slumping, will have the asphalt milled up leaving a gravel surface for the park to grade and maintain the drivability. The gravel will remain until a permanent fix is completed at a future date, the park has previously said.
The work does not extend into the Swiftcurrent Valley.
Backcountry campers are encouraged to select alternative hiking routes that do not begin or end in Many Glacier. Similarly, backcountry campers are encouraged to pick up their permits (advance reservations or walk-in permits) at one of four other permit issuing stations in the park, including Apgar, St. Mary, Two Medicine, and Polebridge.
Park officials also encourage boaters to recreate on park waters other than waters around Many Glacier to avoid congestion due to construction.
---