Boys lose squeaker to Loggers
by
Hungry Horse News
|
February 12, 2020 7:29 AM
So close.
The Columbia Falls boys basketball team nearly beat the Libby Loggers at home Thursday, but a last second trey by Dillon Shipp was just off the mark and the Wildcats lost to the Loggers 42-40 in a game that was close throughout.
It looked like Libby had the game sealed after a Cat turnover in the closing seconds. Libby got the inbounds, found the open man who went to the basket. He missed the layup, but was fouled. But the referees called Libby for traveling.
The Cats got the ball back with 5 seconds and change back. The inbounds pass went to Knapton and then to Shipp in the nearside corner for the trey, but it was just off the mark.
Knapton tapped it back toward the basket, but it didn't fall.
Shipp led the team with 12 and Cade Morgan had a solid game with 9. Morgan was golden from the line down the stretch to keep the Cats in the contest.
While all eyes were on the closing minutes of the game, coach Chris Finberg noted that Cats had six turnovers in their first eight possessions, which he said was the difference in the contest.
On the road Saturday the Cats lost to Polson 70-53. The Cats had a tough third quarter, with just 6 points in the stanza. Shipp had 11, William Dyon had 10 in the loss.
Finberg noted Polson's size gives the Cats problems. The boys had 22 turnovers and Polson scored 14 points in transition.
The boys are home against Browning Thursday night at 6 p.m.
When Columbia Falls takes care of the ball, they're in the game. They'll have to do that against Browning, who will employ a full-court press assuredly.
"If we take care of the ball, we give ourselves a chance," Finberg said.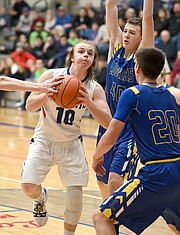 ---