Yesterdays: 1950s Average Family Income $4,000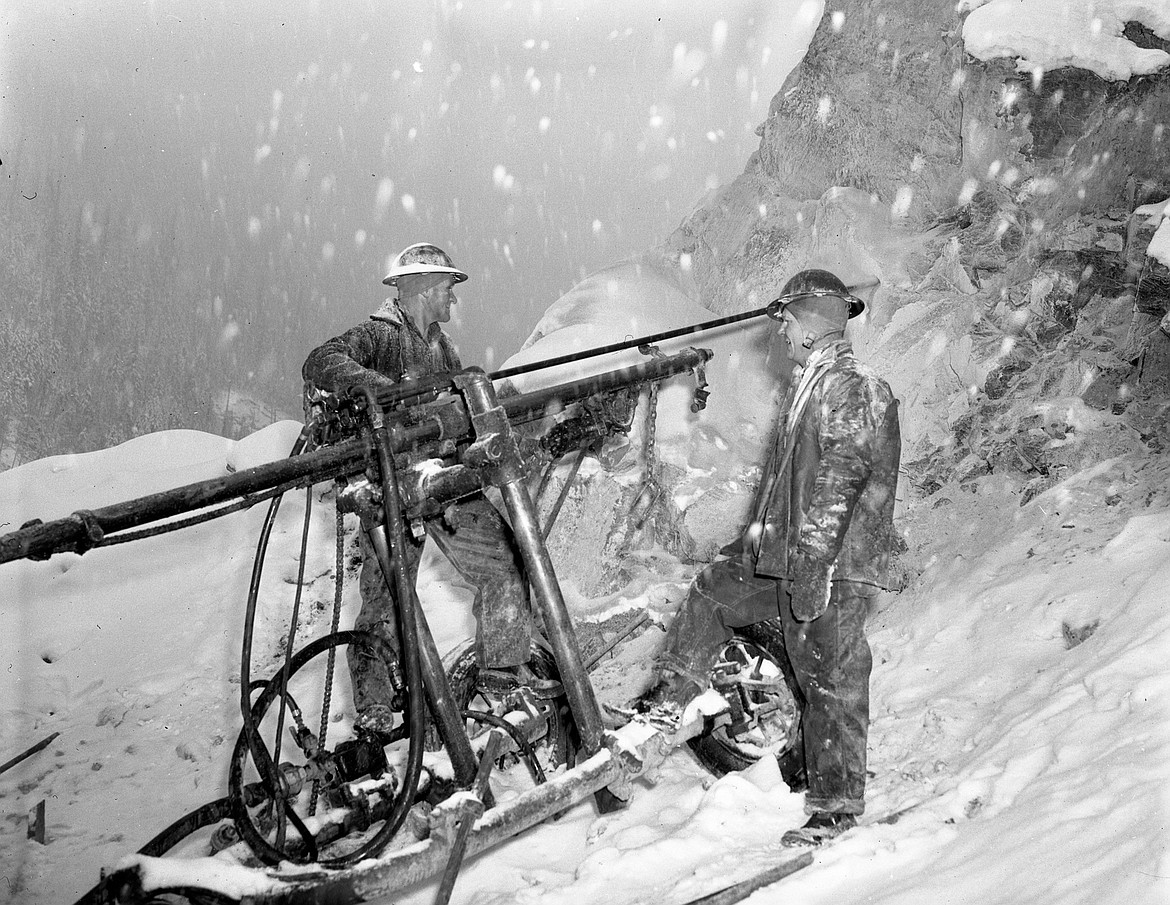 Lowell Wooden of Lakeside and Bill Geis of Columbia Falls drill blasting holes for the Hungry Horse Dam in January, 1951. (Mel Ruder photo)
|
December 30, 2020 1:00 AM
70 years ago
Dec. 29, 1950
Flathead County income reached an average all-time high, with a family group earning about $4,000. The county population at the time was about 31,000. The county had a glut of logs in its mills after the federal government placed restrictions on softwood lumber that ended up curtailing home construction nationwide.
60 years ago
Dec. 30, 1960
Ed Schenck, general manager at the Big Mountain ski resort said they had a record day — 800 skiers — on Dec. 27, 1960. Columbia Falls fireman had answered 52 calls in 1960. Property damage totaled $7,000. The greatest damage came when a home owned by J.D. France partially burned, causing $4,000 in damage.
50 years ago
Jan. 1, 1971
CC Gordon, a botanist from the University of Montana had issued a preliminary report on fluoride damage to Glacier National Park's vegetation from the aluminum plant in Columbia Falls. The fluoride stunted lodgepole pine needles and was found in the grasses and animals in the park, including snowshoe hares.
40 years ago
Jan. 1, 1981
Spring-like weather caused a mudslide about a mile above Apgar on the Going-to-the-Sun Road. The slide sent numerous trees over the road and made things a gooey mess. Crews were busy trying to clear it so the road could be reopened to winter traffic.
30 years ago
Dec. 28, 1990
A Siberian Express blizzard marked the end of 1990. Snow, high winds and brutal cold struck the area. Polebridge dropped to 40 below zero and major employers let their employees go home early as roads were clogged with snow.
20 years ago
Dec. 28, 2000
It was a tough year for workers at large employers. The Columbia Falls Aluminum Co. said it would cut production in half and layoff about half of its 600 employees as well. More lumber mills shuttered, including American Timber in Olney and Pyramid Mountain Lumber in Seeley Lake, though Pyramid still operates today.
10 years ago
Dec. 29, 2010
Grizzly bear recovery coordinator Chris Servheen of the U.S. Fish and Wildlife Service objected to the Swan Crest ultramarathon, noting it went against the tenets of safe travel in bear country, including running on trails and running at night. "It's contrary to what we tell everyone," he said.
---