Swimming seeing plenty of coronavirus restrictions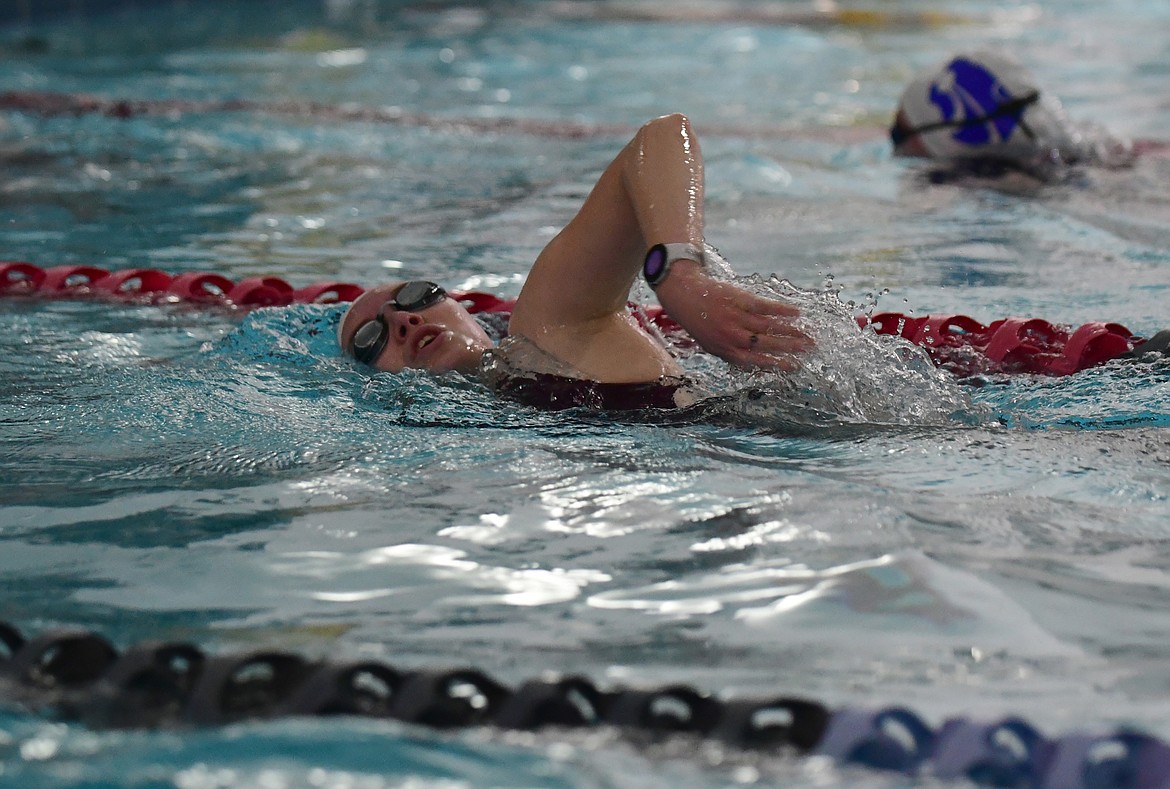 A swimmer for the Columbia Falls girls swim team heads back to the board after practicing dives earlier this month. (Teresa Byrd/Hungry Horse News)
by
TERESA BYRD
Staff Writer
|
December 30, 2020 1:00 AM
The Columbia Falls high school swim team is starting their season with a fairly average number of athletes this year, said head coach Hayden Pierce. However, that may be the only ordinary aspect of this season as, due to coronavirus concerns, the team will be facing some major alterations in the upcoming weeks.
One of the main challenges the team of about 21 athletes has already been dealing with is a change in their practice schedule. As a co-operative swim team with Whitefish High School, typically the two teams practice in the pool at The Wave Aquatic and Fitness Center together for their allotted time.
In order to comply with the Wave's coronavirus precautions however, the teams have practiced separately during their allotted time, effectively cutting their practice time in half to about 45 minutes of actual pool time for the athletes.
The MHSA has also mandated that competitions be limited to 50 swimmers at a time, cutting typical meet numbers in third. Many of the local invitational meets have been scaled back to include only valley-wide schools, which may be the norm for the rest of the season, although much of the schedule is still quite tentative, stated Pierce.
Regardless, the team expects to do far less traveling around the state for competitions, Pierce said.
Any competitions that do take place are expected to be divided into boys meets and girls meets. Splitting the competitions into two separate meets will help buffer teams from having to cut swimmers under the new 50-competitor limit.
Aside from pandemic precautions, the Columbia Falls swim team is looking solid this year with multiple returning swimmers in good standing.
"We're looking pretty good, I think we have some real good potential," said Pierce.
Most notably, senior Emerald Templin looks to break the school's record for the women's 500-yard freestyle.
The Wildcat boys will also have a very competitive relay team featuring senior Peyton Malmberg, junior Connor Cheff and sophomore Adam Schrader.
"I'm excited to see them swim," said Pierce.
As of now, the only definitively scheduled meet, said Pierce, is the Kalispell Invitational at the Summit in Kalispell on Jan. 9.
---