FWP, Land Trust hope to conserve 800 acres of CFAC lands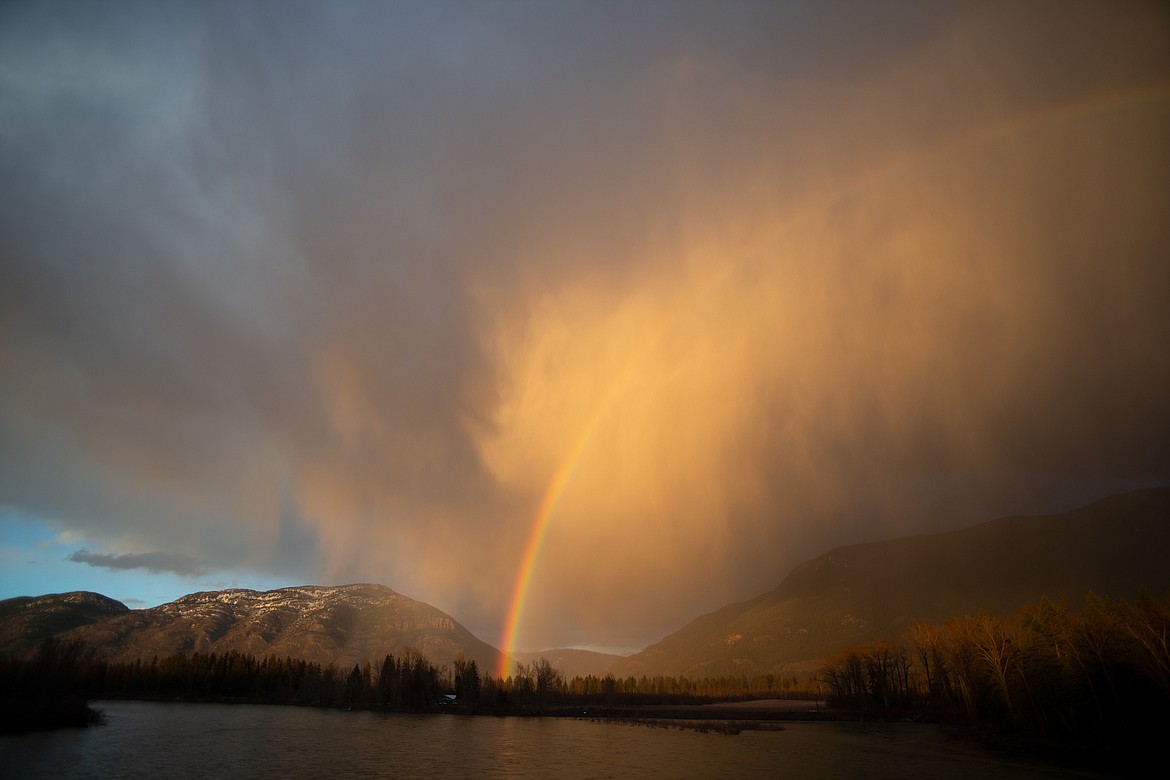 A rainbow appears to descend in this file photo near 800 acres of land owned by CFAC that FWP and the Flathead Land Trust are eyeing for a new wildlife management area. (Chris Peterson photo)
Montana Fish Wildlife and Parks and the Flathead Land Trust are working together with the hopes of purchasing 800 acres of Columbia Falls Aluminum Co. land along the Flathead River.
The Bad Rock Canyon Wildlife Management Area, as it would be called, is completely undeveloped and provides excellent wildlife habitat. It's home to nesting bald eagles, osprey, grizzly bears, lynx, elk and deer, just to name a few.
The property is on the south side of the river from the former plant.
It's also home to an intact forest of massive cottonwood trees, one of the most important tree species for songbirds in the West.
The U.S. Forest Service Forest Legacy Program, Habitat Montana, and Pittman-Robertson could all be possible funding sources for this project, FWP notes, along with private funding raised by the Flathead Land Trust.
"If the project fails, the property would most likely be quickly sold, subdivided, and developed into a high-density neighborhood that would include highly sought-after riverfront lots," FWP notes in its cover letter to commissioners, which are set to vote on the project Aug. 13 (Thursday) during their regular meeting in Helena.
The property includes 1.6 miles of Flathead River frontage.
About half the property is zoned for 10-acre lots, the other half is unzoned.
Conserving the property would add to the Land Trust's efforts over the past several years to protect lands along the Flathead River corridor from development.
To date, the nonprofit has conserved about 12,000 acres along the river.
This would be a key piece in that conservation effort.
"This key corridor is located at a geographic pinch point where the Flathead River flows through a narrow canyon between two mountain ranges. A trail is currently being constructed on the property through a revocable license issued by the landowner to allow access for hikers, bikers, birdwatchers, and others. Under FWP ownership, public access could be managed to preserve wildlife presence and hunting opportunities while allowing compatible trail and property use," the cover letter to the project states.
The Gateway to Glacier Trail Group has been working on a bike/pedestrian path on the property through a license with CFAC.
There is a political will to conserve the land as well. The City of Columbia Falls supports the project as does Montana Sen. Jon Tester.
---