Yesterdays: Visitors run over Glacier Park bear cubs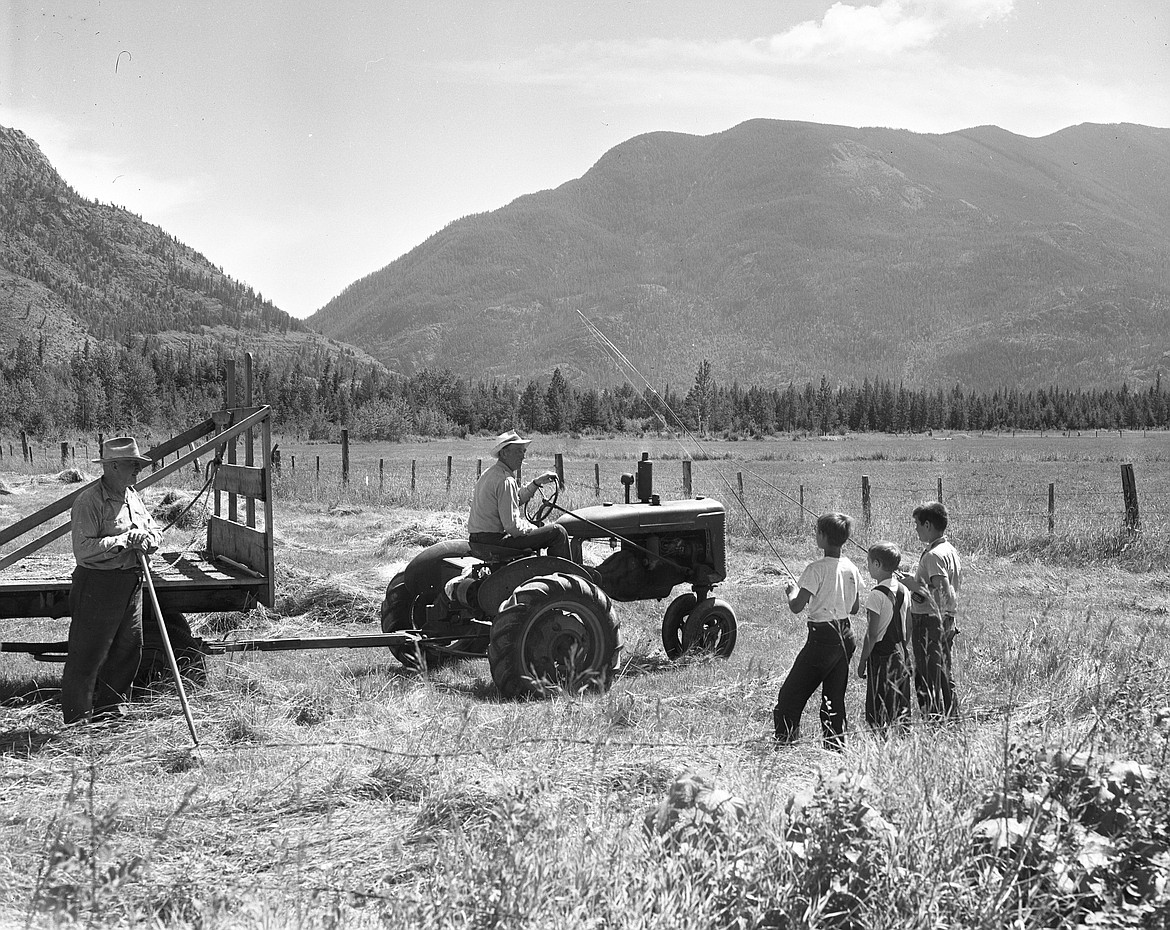 The 700 acres of land north of Columbia Falls that Harvey Machine Co. had an option on to build an aluminum plant. Here is Frank and Chester West haying on the Dehlbom place as Harvey Benzien and Gene and Harvey Krona were en route to go fishing in Crystal Creek. Aug. 11, 1950. (Mel Ruder photo)
70 years ago
July 28, 1950
Gertie, a white black bear that begged for food from tourists along the Going-to-the-Sun Road had both of her cubs run over by cars in the past week. The Harvey company had an option on 760 acres of land for a new aluminum plant north of Columbia Falls.
60 years ago
July 29, 1960
George Glenn of Great Falls was turned away at the boat launch at Two Medicine by a seasonal ranger because his boat didn't have a fire extinguisher. He went back to East Glacier, bought an extinguisher and then went back to boat Two Medicine. While boating, his outboard caught on fire and he used the extinguisher to put it out. He thanked rangers as he left the park for making him get an extinguisher, which saved his boat, and possibly, his life.
50 years ago
July 31, 1970
Heavy use in Glacier's backcountry was reported, with 124 people camped at Elizabeth Lake. The campground is still one of the most popular camps in Glacier, but with a permit system, it doesn't see nearly that many people.
40 years ago
July 31, 1980
Couple Jane Ammerman and Kim Eberly were killed in Glacier National Park by a grizzly bear. The couple were camping just inside the park boundary without a permit near Divide Creek when the bear attacked them. They were suspected of being outside their tent or possibly on top of it. Ammerman was dragged about 60 yards downstream from the camp. Eberly was apparently smashed in the face by the bear, based on autopsy reports.
30 years ago
July 26, 1990
A dog was chased around the yard by a mountain lion at the rural Columbia Falls home of Dave Bianche. The border collie was eventually caught by the lion, but it only gave it a light scratch on the belly before it ran off into the woods on Trumble Canyon Road.
20 years go
July 27, 2000
Terry and Phyllis Doss, of California and Oregon respectively, were both fined $200 by the feds for illegally picking mushrooms inside Glacier National Park. They also received a two-year ban to enter the park. They were caught with 6 gallons of morel mushrooms by North Fork District Ranger Scott Emmerich. They were picking the mushrooms from the Anaconda Creek Fire area, which had burned the year before.
10 years ago
July 29, 2010
The Cardinal Creek Fire in the Bob Marshall Wilderness had grown to 2,000 acres. The fire was burning near Gordon Creek and on Kid Mountain.
---