MHSA officially cancels spring sports season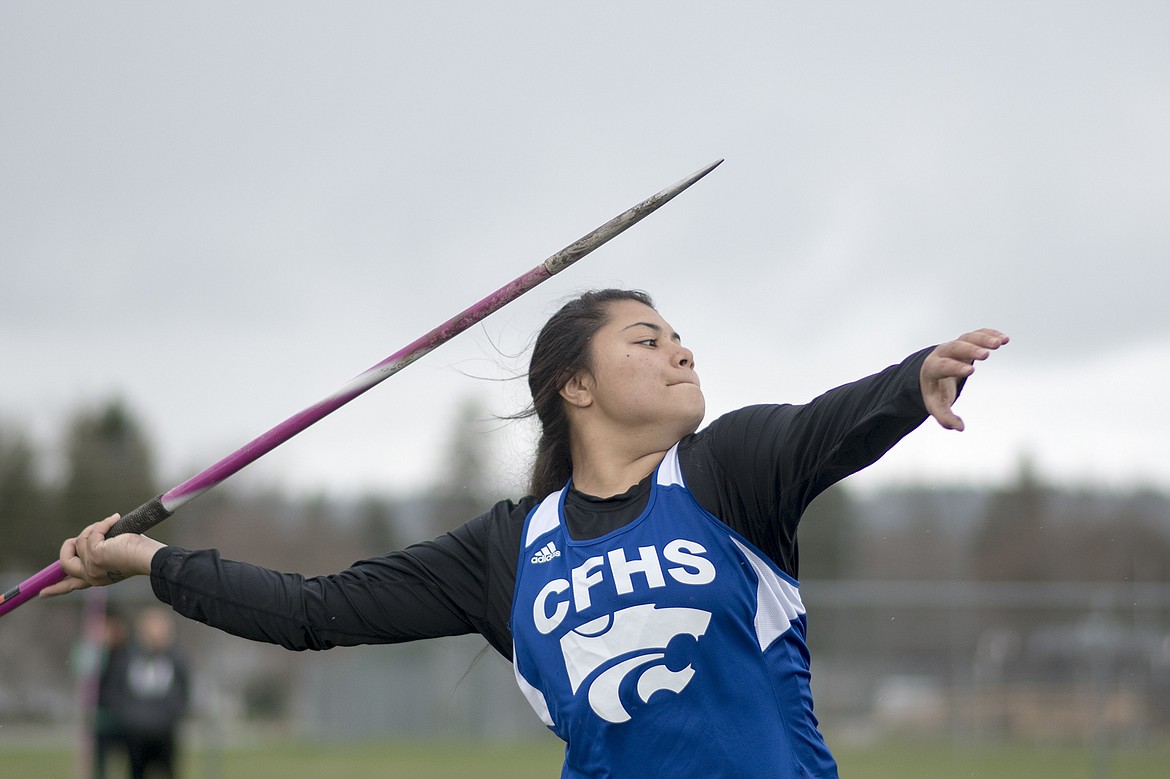 Senior Angellica Street looked to have a stellar track season like many athletes, but the season is canceled.
by
Daniel McKay
Whitefish Pilot
|
April 29, 2020 7:12 AM
The 2020 high school spring sports season is canceled, the Montana High School Association announced last week.
The announcement came after Montana Gov. Steve Bullock announced his phased reopening plan for the state and an end Sunday to the stay-at-home order, which was meant to prevent the spread of the coronavirus. Bullock's new order allows local school districts to determine whether they'll have in-person classes after May 7.
The May 7 date is later than the May 4 deadline set by the MHSA board, according to a release, to have a spring sports season.
Columbia Falls High School Activities Director Troy Bowman said based on previous closure directives, he was more-or-less expecting the MHSA's news.
Now the decisions turn to the summer, Bowman said.
"We just kind of saw it probably progressing to this. Now we're looking at summer-out-of season type activities pretty much being left in our hands. I'm waiting until our district decides if we're going to do distance learning or comeback in the classroom. Then we'll look at open gym when we're out of the season during the summer time. I believe the MHSA has allowed us to start that early if it's possible."
"I've told my coaches we'll wait and see what the school board decides on distance learning and we'll take a look at the guidelines as to whether we can get kids together for the out-of-season conditioning."
Bowman added that off-season work includes summer camps and other uses of school facilities, all of which fall under the district's purview.
He said he feels for the seniors missing out on their final sports season, and potentially graduation ceremonies, due to the outbreak too.
"My youngest in my family was scheduled to graduate from the University of Montana in two weeks. We're right there with all the parents and the senior students in feeling a great loss for the students," he said.
School District 6 is expected to remain closed for the year. The school board is expected to make it official at a special meeting Wednesday.
Superintendent Steve Bradshaw noted that there's just too much worry about bring hundreds of students and faculty back together at this point.
In making its decision, the MHSA said at this late point in the season, it didn't make sense to push on and open for competition.
"The MHSA Executive Board proceeded with cautious optimism holding on to hope to realistically resume spring activities. It would be difficult to conduct meaningful spring activities from this late date, with many schools deciding not to return to in-person instruction, with the social distancing recommendations still in place, and along with many other factors," Mark Beckman, Executive Director of MHSA, said in a release. "We empathize with all the students, schools and communities that this decision impacts, and especially with the many seniors that have shown maturity and resolve as their culminating year of high school has been impacted beyond activities and athletics due to this COVID-19 pandemic. The Class of 2020 will not be forgotten."
With the season canceled, Beckman said MHSA is now looking ahead.
"We look forward to the resumption of high school activities during the 2020-2021 school year with some level of normalcy. Our office will be entirely focused on contingency plans for the 2020 fall season and beyond, should they be needed," he said. "We will continue to communicate as state, local and health agencies keep us informed of new public health guidelines."
For golfers, Meadow Lake Golf Course has opened with some social distancing guidelines in place.
The course opened April 17, and the driving range opened April 18.
Golfers are asked not to approach the first tee until their designated tee time, which will be announced over loudspeaker. There will be no bunker rakes and the flag stick is to be left in the hole at all times.
The bar and bistro is also open with a small menu, and drinks are available for takeout during rounds. The patio area is closed for seating.
Rounds are to be scheduled online at meadowlakegolf.com.
---