With snow cleared, Many Glacier Road work is now underway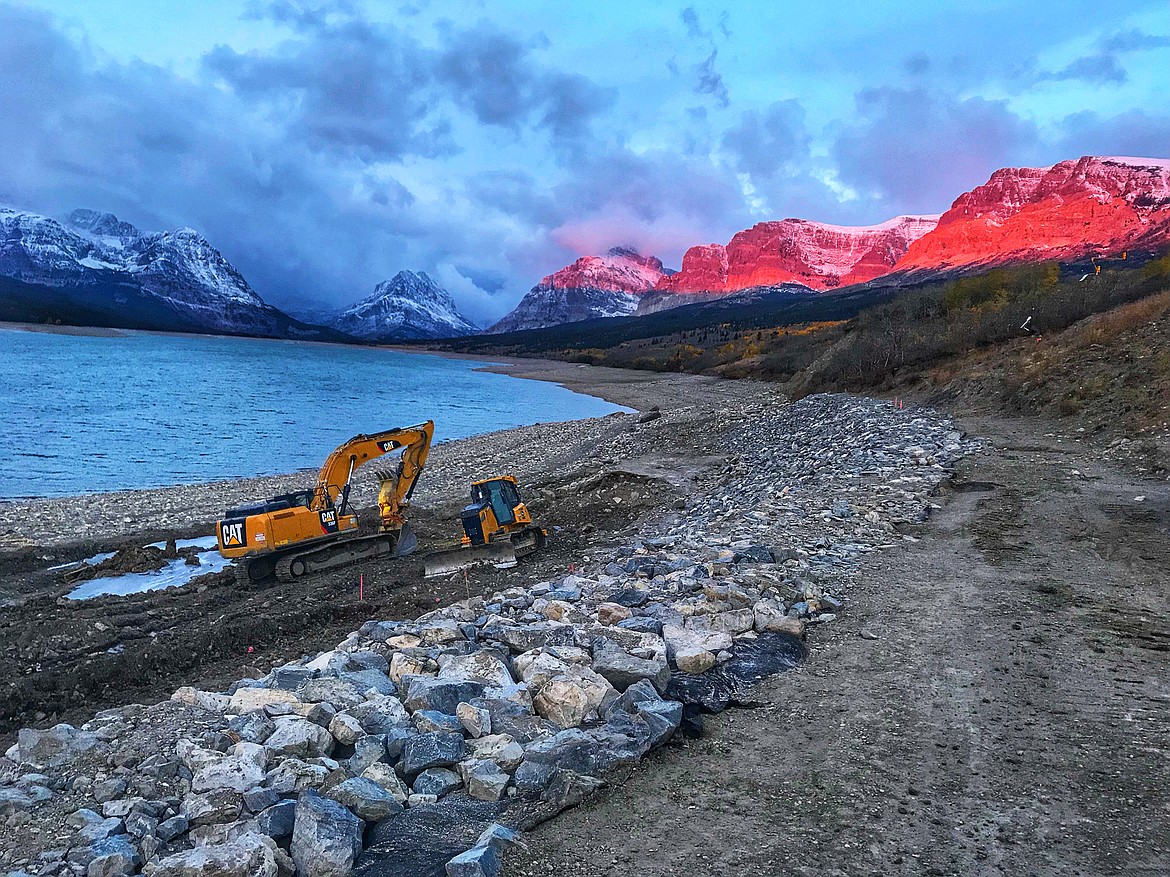 Crews work on rip-rap along Lake Sherburne in Glacier National park in a previous project. More rip-rap will go along the lakeshore in the upcoming project as well. The man made lake, which provides irrigation downstream, is subject to wide fluctuations and thus, erosion. (Photo by Missouri River Contractors)
by
CHRIS PETERSON
Editor
|
April 22, 2020 7:10 AM
Crews from Missouri River Contractors of Helena have begun work on the Many Glacier Road in Glacier National Park.
They started April 1 helping Glacier Park's plow crews clear the highway of snow, said project manager Kris Anderson.
They then did a lot of survey work and started excavation last Thursday. While the project runs from Babb to the Many Glacier Hotel parking lot, crews have been focusing their work in the park boundaries.
They have 59 culverts to replace as part of the project, Anderson said.
"There's a big push to get those done," he said.
The contract is for just over $18.2 million. About 10 men are working now, but that will ramp up to 20 soon, Anderson said Monday.
Crews have still had to remove snow from the sides of the road in order to replace culverts.
It's been a rather cold and snowy spring on the east side of the park.
The project will eventually rehabilitate approximately 12 miles of the Many Glacier Road from the Many Glacier Hotel parking area inside Glacier National Park to the intersection with Highway 89 in Babb on the Blackfeet Indian Reservation.
This fall, crews will work on the parking lot at the Many Glacier Hotel. That work has to be done by next May 28, Anderson said.
From April 1 through May 17 and Sept. 21 through Dec. 16 the road will be closed to visitor traffic at the park boundary — right now that's a moot point — the entire park is closed to visitors due to the coronavirus.
How Glacier will open during the pandemic remains to be seen, as it typically draws significant crowds in the summer months.
Anderson said crews this summer will be working on rip-rap along Lake Sherburne to stem erosion of the roadbed.
They'll also be doing masonry work as well as other work near the entrance.
Visitors are told to expect about 40-minute delays both ways in the daytime during the week and up to three hours at night.
The work along the section from Babb to the park boundary will entail slump repairs, drainage repairs, road surface repairs, and culvert replacement. The section from the entrance station to the hotel will entail road repairs, drainage repairs, culvert replacements, and bridge repairs. Once all of the major repairs are completed the road surface will be milled and an overlay of asphalt placed for the driving surface.
The section between the park boundary and the entrance station, the worst portion of this road due to severe slumping, will have the asphalt milled up leaving a gravel surface for the park to grade and maintain the drivability. The gravel will remain until a permanent fix is completed at a future date, the park has previously said.
The work does not extend into the Swiftcurrent Valley.
---