Glacier Park plows making progress, but park remains closed to public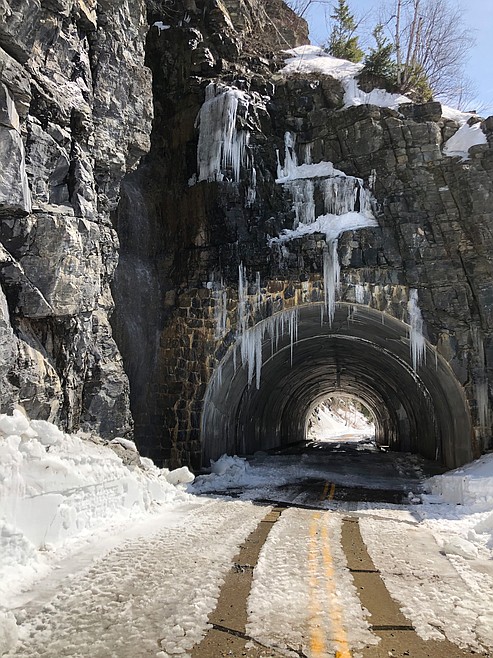 The West Side Tunnel of the Going-to-the-Sun Road Tuesday, draped in icicles. (NPS photo)
by
Chris Peterson
Editor
|
April 15, 2020 12:10 PM
Glacier National Park plow crews are making progress on plowing the Going-to-the-Sun Road. The goal is to make it to the Loop by week's end, a park official said, citing an email update from the plow crews. Crews are through the West Side Tunnel.
The snow has been several feet deep and trees have been down in some sections of the road.
Other park roads are free and clear of snow. The Camas Road is now clear of snow and crews on the east side have been working in Many Glacier, getting that road plowed for construction crews.
All of Glacier National Park remains closed to the public. Even employees who live in the Park are prohibited from hiking trails that are closed to the public, an employee told the Hungry Horse News.
The park's plowing status web page is currently not active, though Glacier did post an update with some photos on its Facebook page recently.
During a conference call Tuesday, Gov. Steve Bullock said he was hopeful the park would reopen this summer, with appropriate social distancing, but he didn't offer any details on how that would be accomplished.
The park entrances often have long lines and crowds in the busy tourist season, as do its visitor centers and shuttle stops. Trails in the Sun Road corridor see tens of thousands of hikers each summer. Some more than 1,500 people a day.
However, other less popular trails often see just a handful of people each day.
Glacier, in part, closed in March at the behest of Bullock and local officials as they were concerned about the spread of the novel coronavirus.
But without the park, and the Sun Road open, the local economy will greatly suffer. In 2019, preliminary data from the University of Montana's Institute of Tourism and Research estimated that nonresidents spent $3.6 billion in the state. In 2018, $1.2 billion was spent in Glacier Country, which includes counties that are near the Park. In Flathead County alone, nonresidents spent $614 million in 2018.
But the virus is still a grave concern nationwide and Bullock has proceeded with caution in reopening the state, announcing closures in two-week intervals. All restaurants, bars and "non-essential" businesses remain closed.
The current closure runs through April 24.
---