Weyerhaeuser closing plywood plant for a week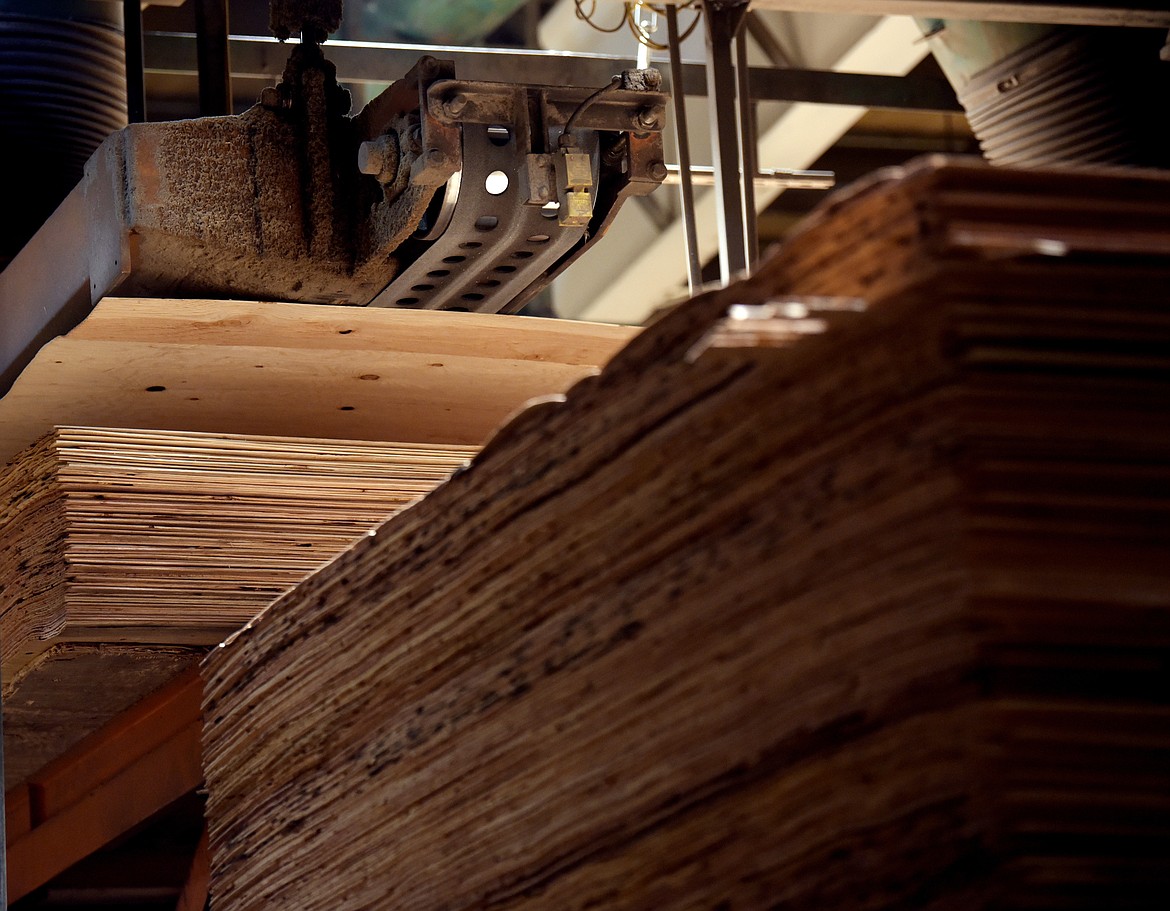 Plywood at Weyerhaeuser on Tuesday, October 1, in Evergreen. (Brenda Ahearn/Daily Inter Lake)
by
Chris Peterson
Editor
|
April 1, 2020 12:47 PM
The COVID-19 virus is having an impact on Weyerhaeuser.
The company announced Wednesday it was shutting down its Evergreen plywood plant for one week.
"As we manage through this unprecedented pandemic, we are temporarily closing our Evergreen plywood mill in Montana for one week, beginning April 6, to better align our production volumes with market demand," said Nancy B. Thompson, director of governmental affairs for the company in a release. "Affected employees will have access to continued Weyerhaeuser benefits during this time. We are doing everything we can to limit the impact of this situation on our people, customers and local community during an already stressful time."
Weyerhaeuser has mills in both Evergreen and Columbia Falls. In Columbia Falls it operates a medium density fiberboard plant.
The company also announced it was taking other steps to strengthen its balance sheet.
It said it was limiting or deferring non-essential operating expenses; reducing 2020 capital expenditures by approximately $70 to $90 million; and would increase cash-on-hand by $550 million through a draw on its revolving credit, which expires in January 2025 and has $950 million of capacity remaining.
In addition, it has $145 million in cash from the sale of its Montana timberlands. Last week it also issued $750 million of 4% notes through a public bond offering, with proceeds to be used to refinance the company's outstanding 2021 debt maturities, the company said.
At F.H. Stoltze Land and Lumber Co., the Columbia Falls mill was operating as usual, with precautions being taken to ensure the health of employees, Paul McKenzie, lands and resource manager for the company said.
McKenzie said there's a lot of uncertainty by buyers.
"People are being very cautious," he said.
Stoltze manufactures dimension lumber.
Lumber futures were trading at about $278 per 1,000 board feet as midweek, but they had been well above $400 at the end of February, according Nasdaq listings.
---